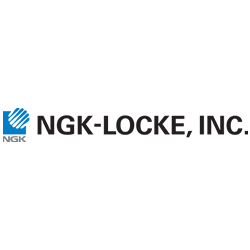 NGK-Locke, Inc., is the exclusive sales company for various types of high-voltage insulators in the United States. We are one of the few companies who can offer both porcelain and polymer products. All of the products that we offer to our customers are produced by NGK's global production network of ISO 9001-certified factories, including U.S., Indonesia, China and Japan.
NGK-Locke, Inc. began its operation in the United States in 1965 under the name of NGK Insulators of America, Inc., as an exclusive sales division of NGK Insulators, Ltd., Japan. The name became NGK-Locke, Inc., when a joint venture between General Electric and NGK was formed.
We are engaged in the sales of products manufactured by NGK Japan, China, Indonesia, and our U.S. affiliates, Locke Insulators, Inc., Baltimore, MD, and NGK-Locke Polymer Insulators, Inc., Virginia Beach, VA. Our total product lines include electrical insulators, electrical equipment and transmission line insulator/hardware assemblies. We currently maintain our main office in Baltimore, MD, and have branch offices in Atlanta, GA, Dallas, TX, Torrance, CA, and Virginia Beach, VA.
Products and Services - Summary:
Polymer Insulators – Line Post, Station Post, Braced Post
Porcelain Insulators – Station Post, Suspension, Distribution Line, Pin Type
69kV to 765kV