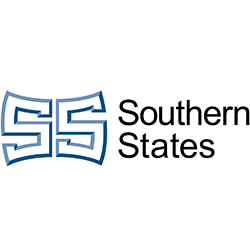 Just a short 45 minutes south of the world's busiest airport, Atlanta's Hartsfield-Jackson International Airport, down US Highways 19/41 you will find Hampton, Georgia.  Here in this small, peaceful Southern community you will find our most famous neighbor, the Atlanta Motor Speedway.  Here, too, you will also find Southern States, the largest switch manufacturer in North America and a rapidly growing player in the SF6 products field.Don't let the peaceful facade fool you, as inside our doors beats the heart of a vibrant, thriving business that continues our long standing history as the quality name in high voltage switching.Situated on 30 acres, the Southern States facility consists of 120,000 square feet of manufacturing space and 40,000 square feet of office space.  As a result of the entry in 1998 into the SF6 products field Southern States also added a high voltage laboratory.
Our sales and marketing organization, backed by professionals with unparalleled engineering and manufacturing expertise, works closely with each customer to provide a high voltage power switching solution tailored to that customer's specific application requirements.  All Southern States products are engineered to the highest technical standards and manufactured from the finest raw materials by craftsmen who share the same commitment to quality and dedication to detail that has been the cornerstone of Southern States since our inception way back in 1916.  In the Southern States testing laboratory, as well as at independent testing facilities, we conduct rigorous design tests to verify that the equipment ratings and performance characteristics meet the exacting standards demanded of and expected by the large and ever expanding Southern States customer base.  Our after sales and service team stands ready to assist in installation and operational checkout of the equipment purchased and to ensure maximum product performance for years to come.  From before the request for quotation is even issued through purchase order placement, order entry, engineering, manufacturing, delivery, and even installation Southern States is there each step of the way, providing the technical guidance, products, service, and support that have customers choosing 'The Quality Name In High Voltage Switching'.
In 1916, Southern States was founded by Mr. W E Mitchell as an electric motor and transformer repair shop in Birmingham, Alabama. From the first product it developed and manufactured, a motor operator, Southern States displayed the spirit of innovation which the company has become so closely associated with.  Subsequently developed products include expulsion power fuses, disconnect switches, distribution cutouts, substation connectors, and even complete substation packages.  As the little business grew into a thriving corporation the available facility space at the Birmingham location was quickly consumed, necessitating a move to a larger plant.
In 1940, Southern States relocated to Hampton, Georgia, purchasing Henderson Foundry & Machine Works.  This new home, a much larger facility, also had the advantages of a large machine shop and a foundry capable of producing many different metal castings.  As the United States entered World War II in December, 1941, Southern States converted from a supplier to the electrical utility industry to a wartime industry producing bomb casings and firing pins for the U.S. military.  The instrumental contribution of Southern States to the war effort was recognized through the presentation by the U.S. military of an Army-Navy "E" award for munitions excellence.
After the war Southern States production returned to serving the industry it knew so well, the electric utilities of the world. Business continued to grow through the years, necessitating facility expansions in 1952, 1959, 1964, and 1976.
Southern States vision of a company of innovators is evidenced by the more than 120 patents issued for various Southern States inventions in the 90 plus years since our founding.
Examples of these many technological advances include the first substation class expulsion power fuses; the reverse loop contact finger for rotating blade disconnect switches (Amplitact®); the world's first and still only 1 million plus volt switch, an RDA 1100 kV double end break switch; the only single gap per phase SF6 full load break/loop break/line drop interrupter attachment for transmission class (69 kV through 230 kV) vertical break switches available in the world today, the LLS-II; the world's first single gap per phase SF6 special purpose capacitor switch with pre-insertion resistors for transient mitigation, the CapSwitcher®; and the list goes on and on with new inventions moving from the minds of our highly talented design engineers into production at an unprecedented pace, keeping in step with utility demands for better technology to provide reliable, high quality electric power to customers.
From our modest beginnings to our current position as the industry leader in the supply of disconnect switches and a growing force in the field of SF6 power switching and protection equipment, Southern States has remained true to its vision of providing cost-effective, high quality, innovative products and solutions to our broad base of customers.
In 2004, Southern States took a further step toward an expanded global presence through the acquisition of two European disconnect switch manufacturers, Egic of Lyon, France and Coelme of Venice, Italy.  This move, coupled with the continued expansion of the SF6 products business and Southern States recent entry into the power electronics field with the CMD™ current measuring device, positions Southern States well to build on our rich history as we move forward in the 21st century. The need for electric power never decreases, and Southern States is there to fill this need now and for many, many years to come.  We are sure Mr. Mitchell would be proud of what Southern States has become-The Quality Name In High Voltage Switching.
Products and Services - Summary:
Capacitor and Reactor Switchers
Circuit Switchers – Horizontal & Vertical
Current Measurement – CMD II
Disconnect Switches – Ground, Group Operated, Hookstick, Operators, Switch-Fuse Combo, TL Switcher
Interrupter Attachments – Horizontal, Load & Line
Power Fuses – Medium & High Voltage, Switch-Fuse Combo
Parts & Service Support